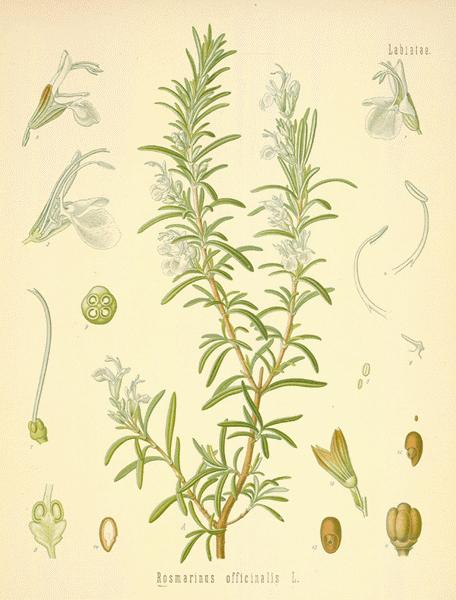 After my ranting sweet about oriental medicine, it's about time I blog about western herbs. This time, I am going to introduce a nice herb called Rosemary which you might read about it before in your recipe books. A nice and hardy plant (it can even grow in Malaysia), it is used in cookery as early as the Roman period. They also use it as Herb for remembrance and even though I sound superstitious, I use it for the same purpose.
My favourite usage of his herb is to flavour poultry. It is nicely scented and goes on well with Garlic and Thyme. Taking herbs as condiments is, in fact, a way of consuming herbs and it is a delicious way to do so too. So, my advice is that, use herbs generously in your cooking.
Rosemary is tonic, astringent, diaphoretic, and stimulant. Perhaps the panacea for a hundreds type of headaches, tradition tells us that Rosemary will not fail in treating all kind of headaches. The essential oil is Stomachic, Nervine, and Carminative. All those big words mean it is good for you when you have abdomen related complaints such as stomaches and the like. Carminative, especially, means that it is good when you have flatulence. However, do note that only the essential oil has such properties.
The infusion is good to improve hair condition too. Often, I found article that Rosemary can prevent dandruff, baldness, graying of hair, and a variety of hair problems. However, the oil works best in this respect.
Rosemary tea can alleviate headache, colic, colds, and nervous diseases and may also lift depression. In this respect, addition of a few Chamomile flower-head will help much in achieving its desired effect. Sweeten with a honey if desired as it will not taste good. Refer to my previous post on how to make a good cup of infusion.
Also, refer to my previous on how to make a herbal cream. It will comes in handy for making Rosemary cream as it is reputed to smooth out wrinkles.
As for its tonic effect, I have already posted an article about making Rosemary wine in December. If you dislike such drink try this instead, it is alcoholic too by the way.
Rosemary Tonic Tincture
Ingredients
6 sprigs of Rosemary

a bottle of sweet white wine
Put the Rosemary into the bottle of sweet white wine and steep for two weeks.

After which, take a wineglass as a daily tonic.
There you have it, the usefulness of a culinary herbs. There's more coming in, make sure you check in often!
*The picture is taken from: http://www.botanical.com/botanical/mgmh/r/rosema17-l.jpg